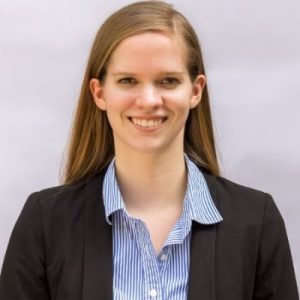 Education
PhD, Biomedical Engineering – Georgia Institute of Technology
BS, Biomedical Engineering – University of Iowa
Biography
During her education at University of Iowa, Betsy conducted research in a pediatric neurology laboratory under Dr. Alexander Bassuk, PhD, MD. There, she characterized the phenotype of heterogeneous and homogenous mutations in the PRICKLE1 and PRICKLE2 in mice and piloted genetic mutation discovery using whole exome sequencing. She also worked with Dr. Edward Sander, PhD in the biomedical engineering department, performing tensile tests on mouse skin. At Georgia Tech, she was awarded the Biomaterials Training Grant (NIH T32) and thus completed semester-long projects in the Babensee (BME), Taite (ChemE), and Botchwey (BME) laboratories before officially joining the Sulchek Laboratory in Fall 2013.
Research Project
Janus Particles as Immunomodulators in the Tumor Microenvironment
List of Publications
Sowers, L. P., et al. (2013). "Disruption of the non-canonical Wnt gene PRICKLE2 leads to autism-like behaviors with evidence for hippocampal synaptic dysfunction." Mol Psychiatry 18(10): 1077-1089.
Darbro, B. W., et al. (2013). "Mutations in extracellular matrix genes NID1 and LAMC1 cause autosomal dominant Dandy-Walker malformation and occipital cephaloceles." Hum Mutat 34(8): 1075-1079.
Reiff, A., et al. (2013). "Exome Sequencing Reveals RAG1 Mutations in a Child with Autoimmunity and Sterile Chronic Multifocal Osteomyelitis Evolving into Disseminated Granulomatous Disease." J Clin Immunol.
Fellowships
NSF Graduate Research Fellowship
NIH BioMAT Training Grant (T32)
Contact
ecampbell3@gatech.edu
Office: 315 Ferst Drive Wing 2A (IBB Building)