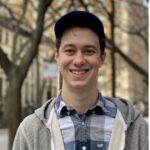 Education: 
PhD, Mechanical Engineering – Georgia Institute of Technology (2021 – Present)
BS, Mechanical Engineering – University of Florida (2021)
AA – Eastern Florida State College (2017)
Biography: 
Steven is the latest PhD student to join the Sulchek Lab. As an undergraduate at UF, he worked on characterizing the structure and mechanics of the African spiny mouse's skin – the only mammal capable of scarless wound regeneration. Now, he is working on an exciting project to improve label-free microfluidic cell sorting for practical use in cell therapy. Steven is an avid music lover and loves playing and composing songs in his free time. 
Contact Information 
Email: steven.swingle@gatech.edu
Office: Parker H. Petit Institute for Bioengineering and Biosciences
315 Ferst Drive, 2A Offices, Atlanta, GA-30332