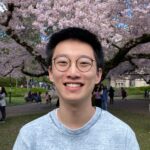 Education: 
PhD, Bioengineering (Home School – Mechanical Engineering), Georgia Institute of Technology 2022 – Present
BS, Mechanical Engineering, University of Washington 2018 – 2022
Biography: 
Sam joined the Sulchek Lab in Fall 2022 as a PhD student. He previously worked on point-of-care diagnostic devices and single cell analysis instruments. He co-founded a company based on the point-of-care urine specimen processor he developed during his undergrad. His research interests include microfluidics, cell engineering and bioprocessing technologies. Outside of the lab, he enjoys hiking, kayaking, and spending time with family and friends.
Publications
Contact Information 
Email: samchen@gatech.edu
Office: Parker H. Petit Institute for Bioengineering and Biosciences
315 Ferst Drive, 2A Offices, Atlanta, GA 30332