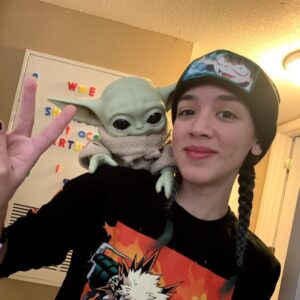 Education: 
PhD, Bioengineering (Home School – Mechanical Engineering), Georgia Institute of Technology (2022-Present) 
B.S. in Aerospace Engineering, Florida Institute of Technology, 2022 A.A. in Engineering, Valencia College, 2019
Biography: 
Carolina was born and raised in Puerto Rico.  She moved to Florida where she finished her last year of high school and continued on to college.  She studied Aerospace Engineering at Florida's Space Coast while simultaneously participating in multiple Georgia Tech summer REUs focused on cell therapy manufacturing (CMaT and SURE program).  As a result, her research interests lie in merging both fields and creating enhanced devices for enabling the mass production of cell therapies. While attending school, Carolina also developed a career with Marriott hotels for a total of 10 years.  Outside of the lab, she likes to watch anime, learn languages, play video games, write, swim, and read and arrange her many books.
Contact Information 
Email: carolina.colon@gatech.edu Parker H. Petit Institute for Bioengineering and Biosciences (IBB) Office: 315 Ferst Dr. #2112 Atlanta, GA 30332(IBB Building)