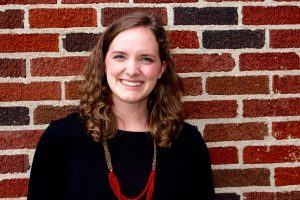 Education:
PhD, Biomedical Engineering – Georgia Institute of Technology
BS, Biomedical Engineering – University of Texas at Austin
Biography:
Katie Young, originally from Austin, Texas, joined The Sulchek Lab in August 2016 as a graduate research assistant. She spent three years working with Dr. Amy Brock at the University of Texas on a project revolving around male breast cancer tumors and the protein that causes the cancer to be more metastatic than female breast cancer. Katie so thoroughly enjoyed her time in the lab that she would like to turn cancer research into a lifelong career, with hopes of one day becoming a biomedical engineering professor. When she isn't busy with her research or school work, Katie volunteers with the Christian organization Young Life, hanging out and mentoring 6th grade grade girls at a local middle school. She also loves to travel and is a big puzzle, book and Broadway musical aficionado.
Research Project:
Katie developed a new technique, along with Tom Bongiorno, for correlating cell mechanical data from atomic force microscopy measurements with gene expression on the single cell level from Fluidigm single cell PCR analysis. She is working to optimize the method, originally designed to study mouse epithelial stem cells, for use in analyzing many different biological questions, including single cell mechanotransduction analysis and correlation between cell mechanics and expression of genes associated with the cancer metastasis, the epithelial to mesenchymal transition process and cancer cell stem-ness.
Publications:
Young, Katie and Brock, Amy. Differential Sensitivity of Male and Female Mammary Tumor Cells to Lysyl Oxidase Inhibition. December 2016. [In Preparation]
Honors and Fellowships:
Georgia Tech President's Fellowship
St. David's Neal Kocurek Scholar
Contact Information:
Email: katie.young@gatech.edu
Office: Parker H. Petit Institute for Bioengineering and Biosciences
315 Ferst Dr. #2112 Atlanta, GA 30332